I have never met Gadabout although I feel like I've always known him. I heard that he lived well into his nineties and only passed on a few years ago. I wish I was aware that he was still alive somewhere in Florida. I'd have loved to meet the man who fueled my imagination as well as the imaginations of thousands of others. I'd like to thank him for opening me to the beauty of wilderness areas, the innate qualities of my fellow humans that make them so special. His easygoing nature, home type friendliness and love of nature were inspirational.
I was surprised when I posted a message on the net a short time ago. Here's the message! I wasn't prepared for the responses. Seems I wasn't the only one whom ole' Gad touched a warm spot in their heart.
---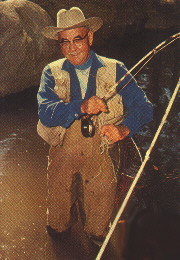 This site is dedicated to Gadabout Roscoe Vernon Gaddis - a simple man - a true representation of freedom, adventure and the goodness in people.
For those of us that admired the man, drop us a note and we'll include your kind words. We appreciate any anecdotes, any uncovering of the old 'Gad' shows and any photos we can publish here.
A lot of fisherman and a lot of young children won't ever get the chance to experience this man's essence, his simple charisma. I hope this small spot on the web will keep his memory alive.
--JP

NEXT PAGE TO GO ON TO NEXT GADABOUT PAGE !!!
---
CLICK ON THE BUTTONS NOW
TO HEAR ABOUT THIS SITE !!


Gadabout's Show on video - Is it still available ??
Gadabout Gaddis's Biggest -- and Youngest Fan - Page II
Gadabout's Mail bag!
Gadabout's TV Philosophy
Gadabout - 'I'm the Luckiest Man Alive!"
The Gad FAQ - In his own words! I-II-III
JOIN IN ON THE FUN ... DON'T MISS OUT !!
WE'LL LET YOU KNOW ! SIGN UP NOW !!!


Enter Your Name:
Enter yos :ur Primary Email addres


WHEN THOSE RARE VIDEO CLIPS OF THE GADABOUT
GADDIS FISHING SHOW ARE AVAILABLE ON-LINE FOR
YOU TO WATCH .. AND REMEMBER .... !!!

SHARE YOUR STORIES WITH OTHER OF GAD'S FUN FANS!
REMEMBER THE TIMES WHEN FISHING WAS MUCH MORE
THAN JUST THE FISH ... AND FILLING UP A STRINGER ...
IT WAS ADVENTURE .. IT WAS YOUTH ... IT WAS PRISTINE WILDERNESS|
ADVENTURES ...

SIGN UP NOW ... ENTER YOUR NAME AND
PRIMARY EMAIL ADDRESS !


---

GADABOUT GADDIS LINKS PAGE AND SUPPORTERS